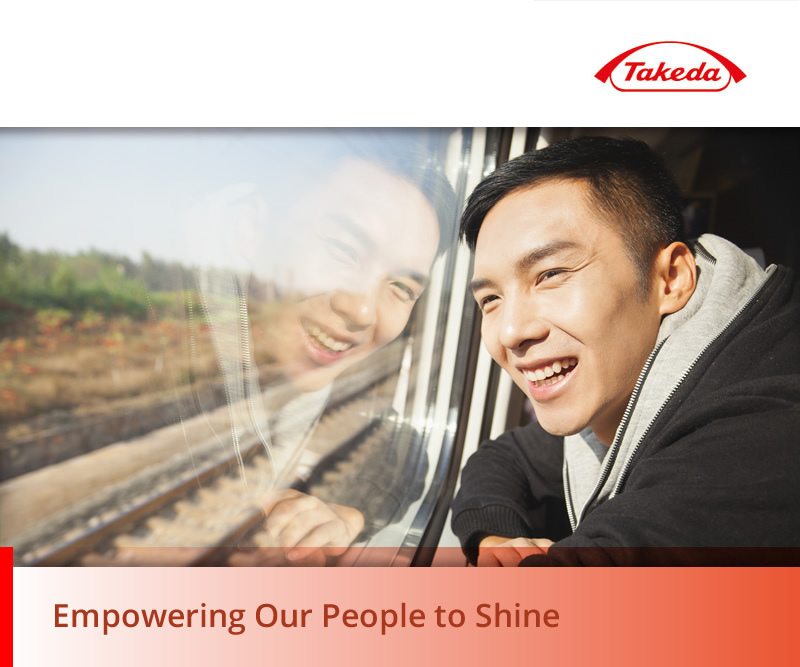 Takeda ist ein forschungsgetriebenes, wertebasiertes und global führendes biopharmazeutisches Unternehmen mit Hauptsitz in Japan. Als größter japanischer Arzneimittelhersteller engagiert sich Takeda in 80 Ländern und Regionen weltweit dafür, Patienten mit wegweisenden medizinischen Innovationen eine bessere Gesundheit und eine schönere Zukunft zu ermöglichen. Insgesamt sind an den vier Standorten in Deutschland mehr als 2.500 Mitarbeiter für Takeda tätig. Wir leben die Werte des Takeda-ism - Integrität, Fairness, Ehrlichkeit und Ausdauer - und streben danach, unsere Mission für alle Menschen weltweit zu verwirklichen.

Hier bedeutet jeder etwas, und auch Sie werden einen wichtigen Beitrag zu unserer inspirierenden Mission leisten. Bei Takeda wird sich Ihr Handeln positiv auf das Leben anderer Menschen auswirken - inklusive Ihr eigenes Leben.
Zum nächstmöglichen Zeitpunkt suchen wir in unbefristeter Anstellung und Vollzeit eine/-n
Service Delivery Partner/-in (m/w/d)
an unserem Bürostandort in Berlin.
Summary
Serves as the Business Partner face-off for all Infrastructure and Operations (CTUX) related Services and Projects.
Partners closely with the assigned Business Partner(s) to collaborate on services and support; develops understanding of the business objectives and technical support requirements; supports development and delivery of required CTUX support and services; and serves as the single-point-of-contact (SPOC) for all CTUX services required.
Responsible for ensuring CTUX IT Operations within the assigned region/business.
Develops, tracks, and measures key performance indicators and customer satisfaction metrics. Works to ensure CTUX service and process changes are thoroughly vetted and understood by the Business Partner (BP) and that the BP is appropriately cascading information with their business functions. Conversely, ensures all CTUX requirements coming from the BP/Business function are cascaded back to the appropriate CTUX function(s).
Responsibilities include, but are not limited to:
Support Business IT Operations by overseeing all aspects of CTUX' service delivery, platforms and support, including

Reports; dashboards; service request management
Supporting Voice of the Customer and continuous improvement with process and problem management.
Implementation and enforcement of CTUX technology and process standards.
facilitating Service Reviews with all internal and external Contributors
End-to-end ownership of issues and escalations with the associated Business function.

Oversee and/or manage Projects with CTUX components, including monitoring process; taking feedback; and ensuring end-user satisfaction with delivery.
Budget Management for local/regional Cost Center(s), including Budget Planning and Tracking
Serve as Single Point of Contact for all CTUX related Services and support within the assigned function/region/country.
Participate in Commercial IT's leadership team meetings
Provide regular updates on planned Initiatives and reports on IT Operations and projects.
End-to-end CTUX issue/escalation ownership
Where requested by the Commercial IT Business Partner: participate together with Representatives from Commercial IT in Business Meetings (i.e. cycle meetings, etc.)
Works hand-in-hand with Commercial IT on ensuring CTUX business demand is met using standardized, fit-for-purpose Technology and Procedures
Education & Experience Requirement
Bachelor's degree in Computer Science or related field or equivalent experience required, Master's Degree preferred.
10+ years experience in a technical environment
Experience as a team-leader
2+ Years of setting performance standards in a comparable role
Project Management Certification is a Plus
Strong analytical, communication, interpersonal and organizational skills required.
A collaborative mindset is an absolute must.
Fluency in German and English
Ihre Bewerbung
Bitte übermitteln Sie Ihre aussagekräftigen Bewerbungsunterlagen über folgenden Link:
https://www.takedajobs.com/job/berlin/service-delivery-partner-germany-m-w-d/1113/17182344
Sie haben noch Fragen zur Ausschreibung und/ oder zum Bewerbungs- und Auswahlprozess? Bitte kontaktieren Sie:
Frau Natalia Sadowska
Talent Acquisition Partner
Email: natalia.sadowska@takeda.com